How lucky you are to have found your Best Friend...
November 17, 2010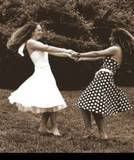 Definitely no one in this world would want to face all the trials and hardships in life just all by herself. We certainly want a particular individual who would drift away the pain in our heart. Most especially if we just went through a lot and can't bear anymore the pain. We surely need a specific person whom we want to share our joy and blessings that this world has to offer.
How great it is to have a real friend, who is willing to listen to all your grievances and very much willing to lend a helping hand, just when you needed the most
How fortunate you are to find someone who would truly stick it out with you through thick and thin. The person who would utter some encouraging words that you badly needed when you feel so discouraged with yourself and was on the point of quitting. She will make you realize that there are still so much in store for you even if you fail the first or the second time around, and awakens you that giving-up should never be an option.
Furthermore, the simple hug from a friend may drive away the loneliness and sadness you feel at the very moment, simply because you felt the sincerity, the love and her care towards you. She makes you feel the security that whatever happens she will stay with you all the way, even if others may turn their backs on you. It feels so great to realize there is someone who would accept you for who you really are, not afraid of being judged.No more pretensions, just the real you.
For this reason, we should be grateful because a Best Friend is indeed hard to find.
Therefore, if you have found your best friend already, value her same as you value your family. Treasure the friendship you have with her since a Best Friend, a real friend is truly one in a million and one of a kind.