Kylie Minogue in the Philippines
July 09, 2011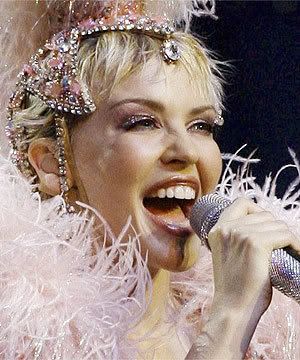 Kylie Minogue
The famous Australian singer and actress Kylie Minogue was in the Philippines for the very first time a few days back for her one night concert at the Araneta Coliseum last July 5, 2011. Philippines was included in her "Aphrodite" concert tour. This concert was one of the much anticipated concerts of international singers here in the Philippines this year, both the ordinary people and even the Filipino celebrities really made time to watch Kylie Minogue's live performance at the big dome. A lot of celebrities were there and as a matter of fact, after the huge success of his concert at the big dome last July 1 entitled "Unkabogable", Vice Ganda watched the said concert wearing fabulous outfit, and because he exerted an effort for that outfit, it was no surprise at all why he was chosen by Kylie Minogue herself, as the best dressed in the concert of multi-talented Australian singer/actress in Araneta that night.
Additionally, after the concert, the international singer even said on her twitter account that Vice Ganda won as the best dressed in her concert in Manila. And the host was so ecstatic after reading the tweet from Kylie and replied to her that he was so thankful for choosing him that night.
I'm sure that Kylie wowed the crowd with her amazing performances and with her fabulous outfits as well that night. And no doubt that her Filipino fans are still looking forward to the next Kylie Minogue's concert in Manila.