Enjoyed watching "Unofficially Yours" of Angel Locsin and John Lloyd Cruz
March 07, 2012
It's been quite a while since the last time I posted here and I must say that I missed posting here. I'm just too busy these past weeks, that it took me a month to update this blog. And as a matter of fact this one is supposed to be written 2 weeks ago but due to my hectic schedule I wasn't able to write this one weeks ago.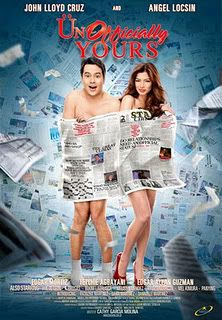 Anyway, me and my friends were able to watch "Unofficially Yours" of John Lloyd Cruz opposite Angel Locsin few weeks ago. After hearing a lot of good reviews of the movie from our friends, we decided to watch it. And I must say that they are indeed right, you would really appreciate the movie and each of the characters of the film. I can honestly say that me and my friends were actually enjoying the film since there were a lot of funny scenes that you can't help yourself from laughing.
It is definitely a good movie and I must say that Cathy-Garcia Molina really did a good job in directing the film. I must say that "Unofficially Yours" is truly a breath of fresh air. Kudos to her and to Angel and John Lloyd since they both nailed it, and to the rest of the cast as well.